News
Jain-uinely Good | Lifestyle News,The Indian Express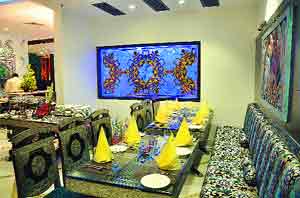 A go to to the brand new Marwari restaurant at The Ashok is as easy because the khandvi served there.
This task,we admit,we confronted with a sure trepidation. It's not as if we dislike vegetarian meals; we simply attempt to keep away from it as a lot as attainable. Nonetheless,we made our technique to Shraman — the brand new Jain and Marwari nice eating eatery at The Ashok. The journey turned out to be longer than traditional as there aren't any indicators to the restaurant and we ended up spending about 20 minutes meandering by means of the echoing halls of the lodge.
The interiors are completed up in an appropriately Rajasthani method. The partitions are a pastel blue,with occasional murals and aid tile work. The furnishings consists of modernistic,fake Rajasthani chairs and tables (actually,the one technique to describe them) and the service workers is well mannered,environment friendly and nicely knowledgeable in regards to the choices.
The menu is split into three classes: Marwari,generic Jain and North Indian. Ignoring the final one,we charted new territories — diving into the Jain and Marwari sections. The supervisor,seeing our mystified expressions,made some useful strategies,which we gratefully adopted. We began with a blended platter of Jain and Marwari appetisers,together with Paan Patta Chaat,Jodhpuri Mirchi ka Pakora,Kalmi Vada,Dhokla aur Khandvi ki Chaat and Dahi ka Samosa. The dhokla and khandvi chaat tastes precisely the way it sounds,with items of tangy,smooth dhokla and restrained khandvi served with a splash of mint and tamarind chutney,and overwhelmed curd. Whereas the pakora and the samosa are palatable,even when a little bit bland,it's the paan chaat that grabs consideration. It's principally deep-fried betel leaves tossed within the traditional chaat accoutrement,however the springy aftertaste of the leaves is a improbable palate cleanser.
For the principle course,we had been served Rajma Rasille,Gatta Curry,Rajasthani Papad aur Mangori ki Subji,accompanied by assorted breads. Contemplating all the pieces is made with out onions and garlic,the robustness of flavours far exceeds our expectations. Being typical Dilliwallahs,we naturally beloved the rajma — which is creamier and with a extra sober flavour than we're usually used to. To be sincere,we didn't see the rationale for all of the hullabaloo behind gatta curry. Alternatively,the subji — comprising sun-dried gram dumplings cooked in a curry closely infused with asafoetida,and a last-minute sprinkling of crisp papad — is a superb discovery,given its uncommon style and multidimensional texture.
For dessert,we're thrilled to have been acquainted with Ghewar Malai Mishri,a standard Rajasthani dessert. Rounded wheat muffins drenched in sugar syrup,coated with cream and studded with mishri — that is tooth-achingly candy and so,we like it.
Regardless of its vegetarian,no onion,no garlic roots (pun unintended),we had been fairly proud of this introduction to Marwari fare. One other main plus is the extraordinarily modest invoice of fare,contemplating it's a five-star restaurant.
Meal for 2: Rs. 1,000 (together with taxes) Handle: The Ashok,Chanakyapuri Contact: 24672384